The music in Utah County has been on a steady rise the past few years, and a lot of the artists coming out of Provo, Orem and American Fork are forcing people to do a double-take when compared to anyone out of SLC or Ogden. In the thick of all this, Northplatte Records is helping continue that trend giving some of those people a label to release on. One that brings the comfort of local business and the smarts of a major. With three years under their belts and some notable albums in the market they look to be a sustaining creative force for years to come. I got a chance to chat with co-founders McKay Stevens and Joshua James about the label and its history, plus their thoughts on local and mainstream music. ---

McKay Stevens & Joshua James


http://www.northplatterecords.com/

Gavin: Hey guys, first off, tell us a little bit about yourselves.

McKay: I'm from California, first San Diego and then after my parents divorced at six up to Los Angeles. Up in Utah for school now and that's where I met Joshua like, five years ago or so through skateboarding. Skateboarding was huge in both of our lives growing up. So was music so we became best friends quick and everything else evolved from there.

Joshua: Born in Cleveland, Ohio. Raised in Lincoln, Nebraska. Family/friends/god/struggle/life/death all inspire me.


Gavin: What first got you interested in music, and what were some of your early influences?

Joshua: I often listened to Led Zeppelin, CCR, Bob Dylan, The Doors, Pink Floyd, and The Beatles growing up.

McKay: So many things got me interested in music. My older brother bringing home Beastie Boys Licensed To Ill, Run DMC's Raising Hell and DJ Jazzy Jeff & The Fresh Prince Parents Just Don't Understand, as well as A Tribe Called Quest's Scenario when I was in 3rd and 4th grade. That was huge for me. I've loved so many others since then, spending a lot of my growing up years in Los Angeles I was heavily influenced by west coast hip hop such as NWA, Dr. Dre, Snoop, Tupac, Del etc. I also got huge into the indie movement with bands like Death Cab For Cutie, The Postal Service, The Shins etc. Way too many to name. We are both music addicts. We listen to everything really and always searching out new sounds.

Gavin: How did the two of you come to meet each other and strike up the friendship you've had?

McKay: We had mutual friends through skateboarding and music and then we started skating together and playing music together etc. That was maybe five years ago or so.

Joshua: Yes that sounds about right.


Gavin: Where did the idea come from to start up a local label?

McKay: We were playing music together a ton and doing a bunch of different shows together and doing it all ourselves. Kind of as a joke/hobby we just started calling it all Underground Railroad Records. We went under that name as just something for fun for a while. Then Joshua's career took off thanks to his great talent and his amazing manager Shannon Edgar. After that Joshua said he wanted to start a legit label, and so we did it. Its all grown since then but it started just as two friends having fun with it. That's how we want to keep it. Just like a family. A nice independent label with people who love music making music for people who love music. Haha, we've been able to work with some amazing artists since then... RuRu, Desert Noises etc.

Joshua: Yes, yes, there it is. We hope to expand further in the future to other bands.

Gavin: You probably get the question all the time, but why Provo as the homebase city for it?

Joshua: Provo has good music, I think most places do, but this is where we have been living, didn't see the reasoning in moving to find other good bands.

McKay: We both came out here for college and we really love the music scene here. So much amazing talent and so many amazing people.


Gavin: Northplatte was not the original name of the label. What's the story behind naming it?

McKay: Yeah the original name was Underground Railroad Records. When things got legit that name was taken and so we were searching for names. One day Joshua proposed Northplatte cause it was a town in Nebraska that he had made fieldtrips to. Sounded good, so we went with it.

Joshua: Northplatte is where the geese flock, it is amazing, you must go.

Gavin: When you started putting it together, was it hard getting things in order or did it all flow smoothly for you? And what were the challenges you met along the way?

McKay: Haha, we're still putting it together and figuring things out as we go along. Things have flowed pretty smoothly though. We've gotten the most help from Joshua's manager Shannon. Other help from Velour owner Corey Fox and tons of other people around. Biggest challenges are selling records these days. People just burn CD's now instead of buy them. Haha! It's been such a rad experience though. In the beginning of it all we both just said that we love music so much we don't care if we lose money on the hobby or not. Most people lose money on the things that they love like sports/video games/dating etc... you know? We knew we would spend a lot of money on it but we love it so it is worth putting your life into something like this.

Joshua: When we are rich from our label we will give all our money to the Catholic church.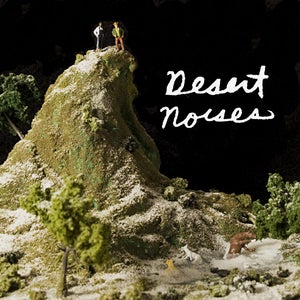 Gavin: For those who don't know, who are some of the artists on your label?

McKay: The artists on our label are Joshua James himself, the mastermind of it all, RuRu, the boy wonder who we recorded his debut album Elizabeth when he was 15, Desert Noises, who themselves were mostly in high school too, and The Vibrant Sound which brings a totally different element to the label.

Joshua: We are in the searching process for other bands and artists that we are in to.

Gavin: What's the thought process for you when deciding to add someone or not?

McKay: We love music so much so we are always on the scene and hearing new people and listening to new records. People submit demos all the time and we go to a lot of live shows to check people out. When we really love someone we talk with them and work things through Joshua's manager Shannon, as we are kind of a sister label of his label Intelligent Noise.

Joshua: There is also often a baking competition, if the band has any skills at baking and or cooking the recommendation for approval goes up by many degrees.


Gavin: What was it like for you Joshua when it came time to release your music on your own label?

Joshua: It's stressful, and hard, and sometimes not worth it. But then it is. So its a very complex thing. But I enjoy not having to do something for another label, I release what I want, and when I want to. So in that way it is liberating. I feel much freedom in it. But watch out for the devil.

Gavin: Do you have a longterm goal for Northplatte to become more national, or is your main focus to stay independent and keep it local?

McKay: We would definitely like to branch out. Artists like Joshua are already huge nationally and internationally so that carries the label everywhere. RuRu is also pretty big nationally. We plan to base ourselves out of Utah for the most part but we see the label as reaching a wider audience though always keeping the independent family feel to it.

Joshua: I think we hope for branching, to expand.


Gavin: You've been going for three years now. What's your overall view of the label and how its developed and grown over the years?

Joshua: It seems that anything you can do for another artist, such as giving them a place to record, or helping out financially creates a sense of fellowship. And from there it seems to help that artist create more, and maybe even better than before, because they know someone believes in what they do.

McKay: Its been crazy to see everything evolve. I don't think either of us expected any of this when we were first starting out. We have seen so much over the years and been blessed with great success and priceless experiences with so many amazing relationships built.

Gavin: A little state-wide, what are your thoughts on the local music scene, both good and bad?

McKay: Not much bad at all. So many amazing things going on in Utah. Some of my personal favorites are The Neon Trees, Shark Speed, Band Of Annuals, The Devil Whale, Location Location, Imagine Dragons, etc. There are way too many to name. Something I would love to see is for there to be more of a family feel between all of Salt Lake and Provo/Orem or even Park City for that matter. Sometimes the communities are split apart but I see nothing but good for the local music scenes in Utah.

Joshua: Mmhhhmm, indeed! That seems about right. I just wish there was more Rap.


Gavin: Is there anything you believe could be done to make it better?

Joshua: There is always room for improvement.

McKay: So many things, but that's kind of how life is. You live and you learn. That's really what makes it so good. Learning and doing it better next time. I think people will see in time as we progress even more as a label and with the sound that we put out.

Gavin: What's your take on local radio, both major and community based, and how its affected local music and artists overall?

McKay: KRCL is amazing! They have been so supportive with us. There is not a ton of others locally that are really all that helpful to work with. Some of the college radio in Logan and Salt Lake etc. I think that the radio could help out the scene so much better than it does. So many amazing artists never get recognized.

Joshua: I really like KRCL a lot too.


Gavin: What do you think of other local labels and the work they do for the scene?

McKay: The only other one I'm really familiar with is Kilby Records, and I love the Band Of Annuals and others they are putting out. I think Will and Lance are huge for the scene in Salt Lake.

Joshua: Yes!

Gavin: Moving to the music industry, tell us what your thoughts are on it in general and the current state it's in?

McKay: Man it's tough to say. I don't stay too informed on the industry. Our label is so far from that, haha! We kind of just do what we love regardless of industry trends. The saddest thing about music these days is not the industry to me, it is the fact that most people don't value music or art in general these days. Everyone just steals it for free and therefore it has no real value in society today. Music has probably changed all of our lives but we've grown up in a society with technology where now it has become valueless. That's the saddest part to me. So many amazing artists can't bring us amazing music anymore cause they can't make any money doing it and so they have to get other jobs etc. I think the industry will always force feed us a lot of garbage but there are so many amazing independent labels now and people are searching for it these days.

Joshua: In Canada the government pays musicians to make records, and tour.


Gavin: What do you think of the current trends in music that are getting radio play today?

Joshua: Looks like good music is on its way up.

McKay: Indie/Folk seems to be huge. I think there is this huge generation that grew up on Connor Oberst stuff. People are going back to a time where Bob Dylan was a hero. Singer/songwriter's are becoming huge in an era that may seem a little like the late 60's. Dance music seems to be getting huge too. A whole generation also influenced by The Postal Service, making beats and songs to dance to like MGMT. So many kids coming out with music these days grew up on so many different influences and the sky is the limit to them. I think we'll see a lot more music that crosses boundaries than we have before. It's become more accepted to be into all different types of music these days.

Gavin: What can we expect from you and the label the rest of the year?

McKay: We may have to keep that a surprise! We're working with some different people right now but nothing finalized yet so we can't say. Joshua's new album Build Me This will release in September. This album is amazing!!! Paste Magazine has been ranting and raving about it. We're super excited for that as it has been a long time since he has released a full length album. We'll be working on a full length album for Desert Noises at the end of fall and that is going to blow people's minds away as well. You'll probably see some new talent coming out of the label and you'll definitely see all of the artists on the label touring like crazy. Northplatte's taking over, haha!

Joshua: Tonight at The Arizona, tomorrow the world. Be careful, we are a force.


Gavin: Is there anything you'd like the plug or promote?

McKay: Check out the website, buy a record! Haha! There is something for everyone or everything for someone. Thanks to the amazing people of Utah who have made a lot of this possible with their support. Thanks to all our other fans everywhere who have also made this possible. Come and hang out with us at a show or come skate with us! You can check out any of the bands sites for tour dates etc.

Joshua: There is this awesome webpage, SuperCook, where you can type in ingredients that you have laying around and it will give you recipes to make. I really like it.