BY JON PAXTON
A huge crowd of tweens, teens and post-eens this weekend at the Graywhale in Bountiful.
Apparently there's this TV show called "One Tree Hill," and a nice young lady from that show popped by the Graywhale music store there to record her Kate Voegele Live at Graywhale EP (for myspace records). I was informed by her fans that she is a recurring character and quite popular on that TV series.
The Graywhale staff, as usual, pulled off the recording with class and made the fans as comfortable as possible during the shocking, and entirely unprecedented (!) trouble Voegele had navigating the shitstorm of northbound post-5 pm traffic. Apparently it wasn't Kate's day, regardless, because her bus broke down on the way to Utah. But she, surprisingly enough, was still game enough to come by. It didn't hurt that a recording for MySpace was on the line either....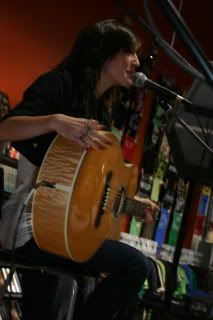 To get a better idea of Kate's music check out the following video. While not for everyone's palate, Kate's voice is very enchanting live. Her guitar playing is also of note. Overall she is an impressive diva.
After playing three tracks for her MySpace at Graywhale EP Voegele skeedaddled to make it over to In the Venue to play her set to even more tweens, teens and post-eens.