[image-x]
By JON PAXTON
The 20th Annual City Weekly Best of Utah Awards smashed into Elevate and left its victims full and a little tipsy. The award winners from the Best of Utah food categories were on hand to sling their food at the tummys of the unwary. Food ranging from the vegan fare of Sage's Cafe, to the pleasantly gut expanding Pie Pizzaria slices spread over several long tables - a smorgasbord of tasty locally produced treats.
DJ JSJ spins for the crowd
The dance floor actually got quite exciting at points as DJ JSJ lit the tables up with some really tubular tunes. You can catch him spinning every Saturday night at the Trapp Door, by the way.
Vegan treats 'n turntables
Princess Kennedy blows kisses on the Elevate stage
City Weekly/SLUG contributor Princess Kennedy took some time out to go-go dance to the JSJ tunes and did a fantabulous job after the Slippery Kittens burlesque troop finished their vintage antics for the excited luminaries of SLC. The following people were all photographed having too much fun. Check it out...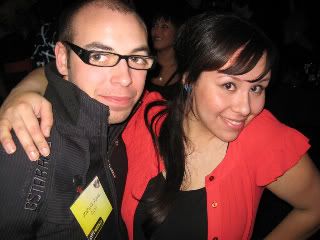 SLUG CW Design Power
CW TV (Baade) with Angela Brown and Mike Brown (SLUG)
Gavin of KUTV's Gavin's Underground working/partying hard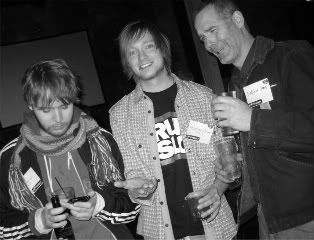 Mike, JP, Fletcher
The crowd got what it wanted in so many ways that nobody went home upset. Even though awards were given out, most can appreciate the event for itself, regardless of prizes. And if you, or your business, didn't win this year, there's always the next one! Hopefully it will be as exciting as it was this year. Knowing City Weekly, it will be. Thanks for stopping by everybody and thanks for voting Utah! Now go support all the places/people who garnered top honors this year and start driving the local economy.