BY JON PAXTON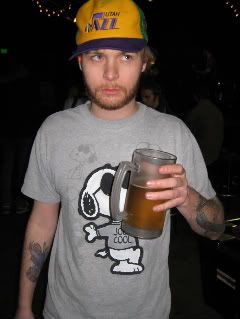 Mike Brown's Mind came up with these shenanigans The first annual Mike Brown Fest (MBF) went surprisingly well last night. One would expect some sort of tragedy or a small wastebasket fire––at the very least––but it was professionally done. The skateboarders were happy, the crowd was happy, and the bands, Andale!, Eagle Twin, and The Fucktards, all enjoyed themselves in a festive manner.
Skaterific
The skateboarders availed themselves of any nearby objects to garner applause, even utilizing Urban's interior decorations as a jumping off and stalling point. It was just the sort of novelty that makes productions like these exciting.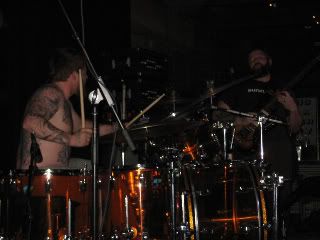 Eagle Twin: Turbo
If you're not aware of the rock fortress of Eagle Twin, make yourself aware. I was not until this point, having lived an almost hermit-like existence in a no-man's land of northern Utah but no longer will I tarry from these twin's of solid fucking, well, I almost want to say straight up metal––and all done with just two instruments. They make a ruckus, most assuredly, with these bare bones basics. I'd say take note of what kind of sound you can make with fucking amplifiers all you two-pieces out there that sound like feral cats tousling in a gunny sack with your acoustics.
Andale! did kick off this bill but I missed it, fortunately I did not miss The Fucktards. Confusion set in to the uninitiated as Kermit, The Beard, Tea Cup and Petey entered with Japanese hanging lampshades on their heads. "We're sperm in case you couldn't notice," Kermit the Brown Eye said as he proceeded to throw filled and tied-off rubbers (I pray to jebus that shit was yogurt) at the crowd.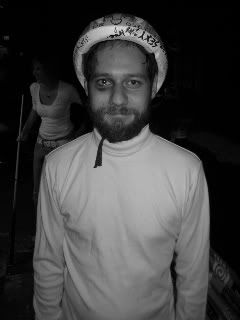 Beard of Solitude: It's for his own protection The Beard was sporting a festive helmet, probably for his own protection given a recent run in with either a fist, several fists, or a wall on his head. Get better Beard, that looks painful. But he still pulled off "The Sperm Look" (suuuuper hot this spring scenesters!) with a nice round headpiece.
As the skaters continued to hop and slide about, throwing kickflips at unsuspecting bystanders (who seemed oblivious to what damage people on moving wood objects could do to their shins), The Fucktards played "Christpunchers", "We're the Fucktards", "Fagotron" (still get misty-eyed about that one) and more, to a big crowd given the unsuspectedly-snowy Wednesday.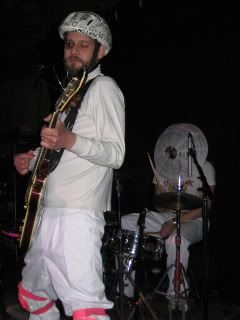 So that was MBF I, when's MBF II? Hopefully we'll get a summer edition because watching skateboarders expertly execute their tricks as bands do the same, well, it doesn't get better than that. PS Scope s'more pics I took
here on my photobucket feel free to copy and paste or link to them. Credit me or don't, who cares? (Jon Paxton)