Keeping you in the loop, a quick update on things happening with me and around the underground. This past week had a lot of things fall through. A transportation snafu kept me from getting down to the Velour on Thursday, and another issue dragged me from The Broken Record on Friday. I promise I'll make it up to both venues to come back out, but for some reason a lot of things just didn't click this week. In the meantime, I have the Kilby Court show from this past Wednesday up, with much thanks to the acts who performed that night for talking with me in the bitter cold wind.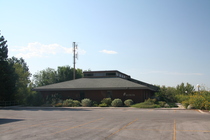 --- Working my way to broadcasting, yes, I have read the City Weekly article on KRCL. Now before I continue, I must remind you that this is just my opinion in a blog, not an official news story. So if you don't like my opinion, good for you. I think bringing in corporate names to broadcast on community radio is a disgrace to the values KRCL was founded on, and a slap in the face to the community who has supported the station all these years. I'll admit, I'm only old enough to remember listening to it for the past 17 years, but whatever incarnation the station was in at the time, the appeal of it was that it was run by locals. That appeal will be lost to me the day those three start, and I won't listen to it. And I wouldn't be shocked if that's the way a lot of others feel.


Now being a fan of a couple of the late night/early morning shows, I also fear that if the powers that be over there feel this format is best, a lot of the really good programs will vanish in a snap. So, to all the local talent over at KRCL, hear me out. If the day ever comes that you feel you'll be taken off the air for a more "corporate sensible sound", band together and go start a new station. Yes, I admit, I'm not all there in the head, but the idea is not crazy. As pointed out by City Weekly, KRCL was founded by anti-war protesters, hippies, and counterculture activists. People with little money or broadcasting experience but a lot to say and a point to make. This state has a rich history of people not liking the way people do business, packing up their stuff and starting their own venture with their own rules and content, and becoming a success. It would take a lot of work, but it can be done. I don't know what the future holds for KRCL, and I've learned to live by the phrase "never say never", but it would also be foolish to think everything will turn out fine. So think of my suggestion as more of a "Worst Case Scenario" plan to keep in your back pockets for now.


As for other things going on, I'm updating the Under The Radar calendar today and should be accurate for the rest of the month by Monday morning. I have yet to plan out what events I'm covering this week so everything is up in the air right now. We'll see how the week pans out. And oh yeah, due to requests, I've made a MySpace page that you can find here.